Whether it's family, friends, co-workers or customers you want to entertain, Betty Lovegren's Entertainment Crew can add pizzazz to any private party and excitement to any corporate event. We do corporate parties, company picnics, private parties, store openings, birthdays, anniversaries, Bar Mitzvahs and Bat Mitzvahs, theme parties, Christmas parties, Halloween parties, and any holiday party. We will create an atmosphere that is sure to make your event a barrel of fun and unforgettable. We can bring 6 to 8 Psychics, 6 to 8 Zany-Shoppers, 6 to 8 clowns ... or 6 to 8 characters of almost any theme. Let your imagination go wild ... you can be sure ours always does!
Please see our gallery for many great pictures from past events.
Here are some of our party entertainment options:
"Bling, Bling Party" ... 1 to 4 fun gals will come to your event and Bling up your guests. These zany women will dress in attire to match your theme or they will dress in bling! How we Bling your guests:
Body jewels (made of Swarovski Crystals) are put on faces, arms, legs, backs, and shoulders

Then add shimmering glitter and beautifully painted designs

Spray colored streaks in hair (men and women)

And add some glitter to dazzle

Or clip feathers, silk flowers with Swarovski crystals on the petals to hair

Paint brilliant Hawaiian flowers and add shimmering glitter

Also tiaras for the ladies and crowns for the gents
Everyone leaves the event blinged out!
Zany Shoppers ... (see character) will create an atmosphere for your store opening or company anniversary that will whip your customers into a shopping frenzy. Our shoppers will dress to suit your theme and our hairdos will add a fun flare.
Psychics ... (see character) all positive, joyous, entertaining and informative:
Tarot Card Readings
Tea Leaf Readings
Handwriting Analysis
Crystal Ball Readings
Palm Readings
Stones, Runes or Color Readings
Body Painting / Face Painting ... arm and leg painting, too ... fast, glittery, safe & fun ... from skulls to princesses ... you name it — we do it!
Waterproof Body Art Tattoos ... hand-drawn designs, dry immediately and last for days ... non-toxic fun for all ages ... this safe, colorful paint was created for the movie industry.

Henna Body Art ... safe, fresh, natural Indian Henna ... hand-drawn traditional, contemporary and custom designs ... colored glitter added on paste for pizzazz!

Santa, Mrs Claus & their Adorable Elves ... invite Santa and his Mrs to make your holiday event even more spectacular. While the children wait in line to see Santa, our Elves will keep them entertained making fabulous balloon sculptures — from tiny balloon jewelry to huge balloon hats. They can also paint shimmering designs on faces, arms, and even legs!
Adorable Happy-Go-Lucky Clowns ... they will delight all with face/body painting, awesome balloon sculptures, magic and games.

Craft Ideas
Pumpkin Decorating
Christmas Tree Ornaments
Tie Dye T-shirts
Other Great Ideas
Pro-Level Jewelry Making
Hair-do's for any Decade — Wacky Hairdressing (40's, 50's, 60's, 70's, 80's)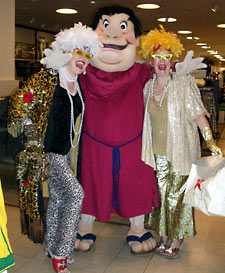 ---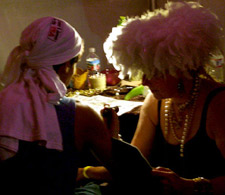 ---